Accell Therapy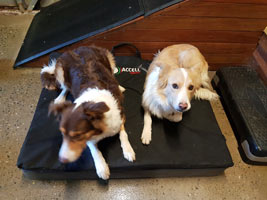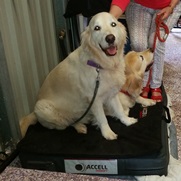 Accell Therapy
Gives the dog a whole body massage using a 3 dimensional Cycloidal Vibration. CVT is clinically proven to work in 4 main areas:
1.Increasing circulation and Lymphatic drainage
2.Relaxing muscle and increasing nerve muscle communication
3.Increasing joint mobility and wound healing
4.Relieving musculoskeletal pain
The dog simply has to lie on a mat to enjoy these benefits which continue to increase for up to 8 hours after the therapy session.
1.Torn Muscles and ligament problems
2.Geriatric and Arthritic conditions as a standalone treatment or a warm up immediately prior to Hydrotherapy.
3.Surgical recovery and wound healing prior to being able to be immersed in water for Hydrotherapy.
4.Inflammation, lymphoma and bruising control.